As you read in last week's Dulles Designs blog post, a bespoke wedding stationery suite is not just comprised of mailed save the dates and invitations. Seated dinner stationery pieces help your guests navigate the critical logistics of your reception from the first cocktail to the after-party.
Your escort cards, table numbers, place cards, and menus not only showcase your wedding style elegantly they also communicate important reception details.
A seated dinner puts your guest list spreadsheet to good use when assigning tables and seats.
The secret is to start this process with us early, yet also be prepared for final adjustments such as last minute regrets or amending the spelling of guest names in the final weeks leading up to your wedding.
ESCORT CARDS
Escort cards (or butler cards) are invaluable seated dinner stationery pieces that inform your guests of their table assignment.
I've seen firsthand the unruly confusion of guests entering a wedding reception to a bevy of unassigned tables. It's never pretty or elegant.
The awkward race to secure the best table or remaining seats gets in the way and distracts everyone. Escort cards assign order, ensure flow, and deliver calmness to your guests so they can focus on celebrating your wedding.
Assigned tables also allow you to organize (or separate) family members and friends with common interests, shared histories or geographical locations for enhanced conversations and interactions.
Arrange your escort cards alphabetically by last name, so your guests can easily locate theirs. You will need one escort card per couple or single, not one per guest.
I recommend an escort card format with calligraphy that allows adding the assigned table number at the last minute, so we can seamlessly handle unexpected seating changes.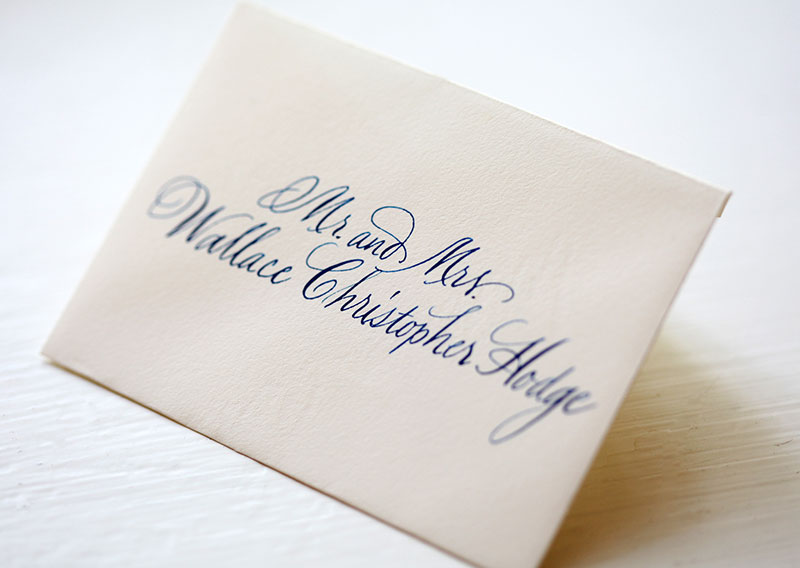 TABLE NUMBERS
Table numbers are often displayed within floral arrangements, in a tasteful frame, or via a tented card penned in calligraphy. You can get more creative by assigning table names that relate to meaningful locations, events, or interests within your courtship.
When assigning table names, organize them in alphabetical order within your reception room layout, so there is a recognizable flow for your guests and the staff.
At one recent Dulles Designs black tie seated dinner wedding in Manhattan, the couple wanted to take the table naming process one step further by including an explanation of the correlation of each location.
Their table names became wonderful conversation pieces for their guests and meaningful memorabilia for the couple, by design.
If you have more than a dozen tables, I recommend sticking to table numbers so guests can find their table quickly and so that the foodservice staff can also complete the dinner service effectively.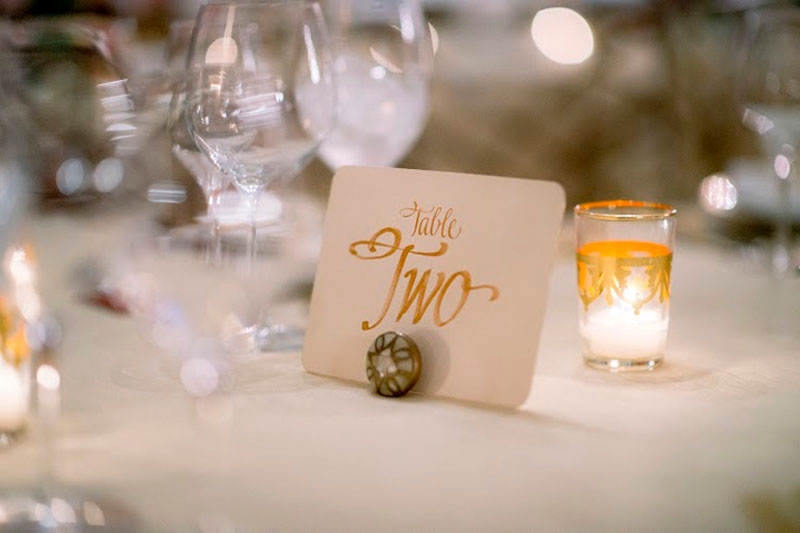 PLACE CARDS
Once you've assigned tables, it is even more gracious to assign exact seats. This allows your guests to quickly find their seat, drop off personal items, and then enjoy your reception without missing a beat. You'll need one place card per guest.
For a traditional formal seated dinner, your place card could be a classic fold-over with your married monogram engraved in gold and with the guest's name in calligraphy. Beyond that there are many creative options for the design and display of your place cards.
I always recommend that place card calligraphy ink is dark enough to be legible underneath candlelight and by mature guests who may not be wearing their glasses.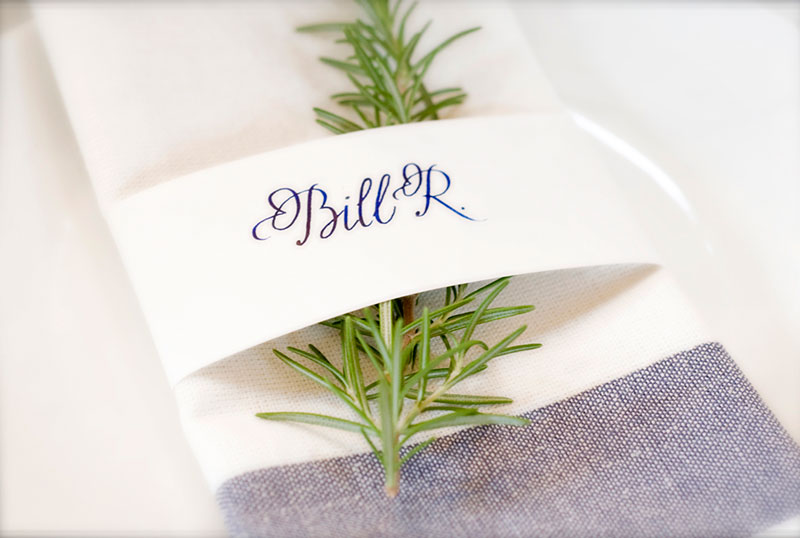 MENUS
Menu cards share the delicious details of your dinner and decorate your tables with personal touches for your guests to enjoy as they anticipate their meal.
Menus should include the main ingredients and wine pairings for special vintages, yet you don't need to go into too much detail. Do mention any ingredients that might be possible allergens or culturally charged; such as nuts, shellfish, foie gras, or raw milk cheeses.
Elegantly printed menus also offer the opportunity to include messages of thanks, history of your reception venue, or the location of your secret after-party; making them meaningful wedding mementos. Dulles Designs' custom menu/place card concepts are particularly eye-catching as the guest's name adorns the menu card in beautiful calligraphy.
Ultimately, escort cards, table numbers, place cards, and menus showcase your wedding style elegantly and communicate important dinner details for a more memorable and enjoyable evening.
——————————————————————————————————–
Emilie Dulles and the entire Dulles Designs team are committed to designing and producing timeless bespoke wedding invitation suites from start to finish. Our event expertise, smooth design process, and proprietary print production and management results in a beautiful, cohesive event communications plan that you, your family, your guests, and your wedding planner will be grateful for and relish for years to come.