We all have someone in our family, circle of friends, or group of colleagues that makes finding that perfect gift for them a challenge.
They have everything. Another bottle of champagne or a silver frame isn't going to cut it.
You want to give them something that will impact their life, bring joy to those around them, and be one-of-a-kind. You also want to give them something useful that won't gather dust.
Bespoke custom stationery –– either monogrammed or designed creatively for their lifestyle –– is that perfect family, friend, or colleague gift, at any age.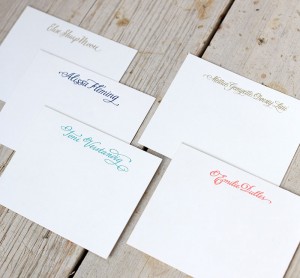 A box of 50 to 100 pieces of custom stationery (sets may include a personal note card or monarch letterhead, matching envelopes, and a social calling card) is a meaningful gift that allows people you care about to write personal letters, send 'thank you' notes, communicate by hand with loved ones on special occasions, and respond with elegance immediately after important social or business interactions.
Incorporating a family crest, home or estate rendering, beloved pet silhouette, or lifestyle hobby motif such as golf, boating, or equestrian activities is a personal touch that makes giving and using custom stationery (instead of texts and emails) a truly bespoke and one-of-a-kind gift.
At Dulles Designs, my team and I handle all stationery design and printing, from typesetting and monogramming to paper and color selections. Expert revisions, wording, and traditional style are included in each order, so all the work leading up to your gift's final printing and delivery is taken care of fully, and quite easily via phone and PDF over email.
I'm guessing you might be jotting down a list of family members, friends, and colleagues to whom you wish to gift bespoke stationery, so here are a few more ideas and guidelines to help you with that perfect gift.
Engaged or newly married friends:
Stationery with the couple's name letterpress printed into a textured note card, or their married monogram engraved on a classic fold-over, will help them respond to wedding presents and shower gifts. In my experience, seeing their names side by side, perhaps penned in calligraphy, or initials intertwined, is a meaningful new symbol of their joined lives together, and one that will bring a smile to each of them going forward.
Your child, grandchild, niece/nephew, or Godchild:
The best way to instill a love for the written word and to reinforce the gracious habit of sending 'thank you' notes is to gift younger relatives with personalized stationery. These can be engraved, letterpress, or printed digitally.
If you engrave their name in a classic font (script or block), they will also have the engraving plate to use for future stationery sets, making reorders easy and more cost effective. A subtle pop of color in the envelope lining, such as their prep school or college colors, adds a chic finishing touch.
Lastly, include a matching pen color and a few stamps, to immediately enable them to practice writing 'thank you' notes on the spot.
Your sister, brother, spouse or long-time colleague:
When someone has been in your life for a long time, odds are you have been through many categories of gifts giving over the years and you may be running out of ideas for their annual presents.
Custom stationery revives the gifting experience for anyone in your life, and I'd be delighted to walk you through the entire process.
The fun creative process of bespoke stationery design can also be shared with recipients who may not otherwise treat themselves to finer details such as hand-lettering, custom renderings, hand-painted or beveled edges, so you don't have to make all the decisions on their behalf yet still get all the credit for their perfect gift!