Planning a wedding can be a seemingly gargantuan task, yet a professionally designed and expertly produced stationery suite (from save the dates, to wedding invitations, to ceremony programs and other custom printed pieces) is the rudder that guides your wedding planning decisions.
The most critical decisions of your wedding planning process are the location and venues, reception style, color palette, guest list size and final guest count.
For a smooth planning process, it is crucial for your wedding stationery suite to not only set the tone for the style of your wedding, but also communicate defining logistics at the right time and in the right way.
~ SAVE THE DATES
Your "save the date" is the first piece of mail your guests will receive and the only one they will see for months until your wedding invitation set arrives. Your save the date makes a vital first impression of your aesthetic as a couple and is a helpful printed tool that communicates essential destination logistics 6-9-12 months out for all guests who will have to travel.
In my early days as a stationer, engaged couples would often come to me to work on their invitations after they made and sent out or – heaven forbid – emailed out a save the date with too little logistical information. We would have to fix their logistical oversights with added printed pieces and costs which could have been avoided.
Trust me, with over two decades of experience working on hundreds of events: do not DIY your save the date. You want that first impression to wow your guests!
The secret to a beautiful and effective stationery suite is to work with one expert stationer from the start. A common design thread with intentional communications will unfold from your save the date to your wedding invitation to all of your "day of" pieces, finally wrapping up with your married stationery for thank you notes.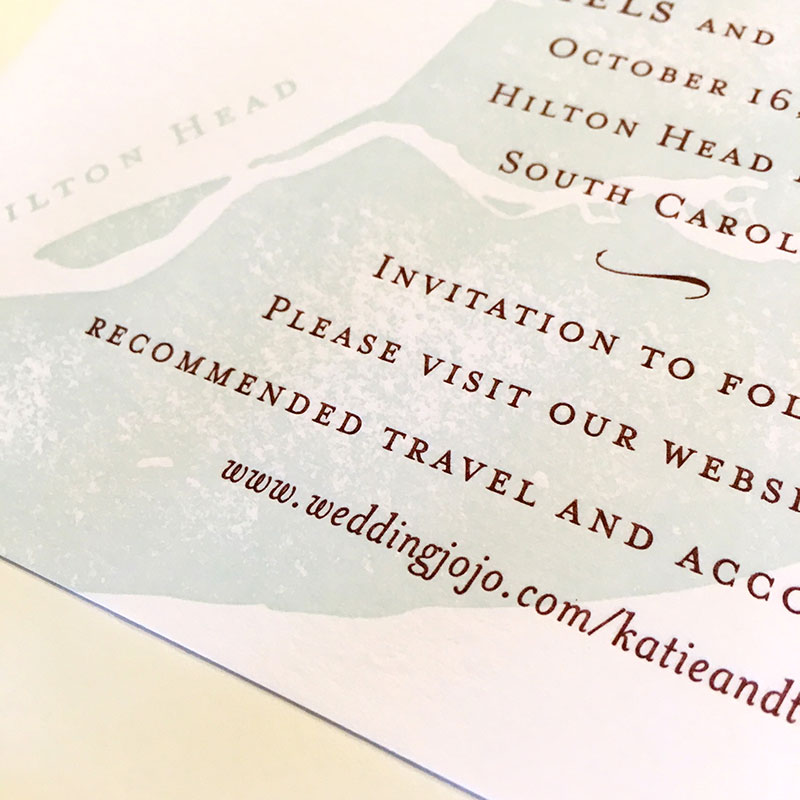 ~ WEDDING INVITATIONS
Your wedding invitation is perhaps the most meaningful and expensive piece of stationery you will ever purchase as a couple to share with your family and friends.
Your wedding invitation should reflect the level of formality, desired attire, and distinctive style of your ceremony and reception; creating a pre-event buzz amongst your guests.
One of my top Dulles Designs recommendations is that your wedding invitation should be fully customized to your wedding. For example, hand-lettering or a traditional font could be engraved with a hand-beveled metallic edge for a black tie and seated dinner affair. A sans-serif font could be letterpress printed in bright hues if a more casual al fresco luncheon is your dream wedding reception.
Once I understand your wedding vision and style, mapping out how your celebration will unfold on paper is a Dulles Designs core competency and honed art form.
Your wedding invitation should be expertly worded and in keeping with protocol. It must also communicate elegantly and effectively all key event details that your guests will need to know before packing their bags for your big day. It should also be the most beautiful invitation your guests will ever receive.
Dulles Designs' sumptuous calligraphy, relationship with numerous post offices, white glove assembly, and hand-canceled mailing services allow you to rest assured that your invitation will travel to your guests as beautifully and smoothly as possible.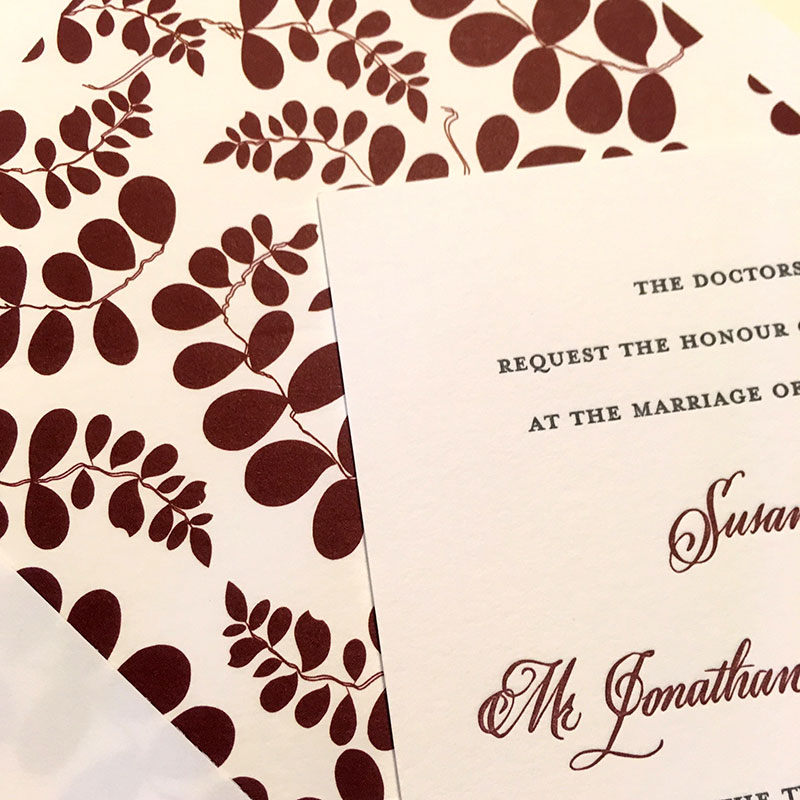 ~ WEDDING GUEST LIST
The biggest source of wedding planning stress (and a ballooning budget) is an out of control guest list. Putting together and managing your guest list are two of the trickiest parts of planning your wedding because of so many moving parts: your guests!
Start a spreadsheet with a "last name" column so you can sort alphabetically. Set a maximum guest count first that includes your families' input, then build your list with formal names and salutations (Mrs. or Doctor or Captain) and gather your guests' best current mailing address.
Not every single on your guest list has to get a "plus one." If your venue has a maximum capacity or if you aren't keen on meeting a friend's random "Internet app" date for the first time on your wedding day, setting a guest list rule such as "only those engaged or in committed long-term relationships will be extended a plus one" is recommended.
Please repeat this out loud: "A well organized guest list spreadsheet is your friend!" It is also a list you should update weekly at first, then daily as you gather address corrections, exact attendee names, meal selections, gifts, and thank you notes sent.
It's easier to delete a column two days before your wedding than to spend an all-nighter reconfiguring hundreds of cells for table assignments.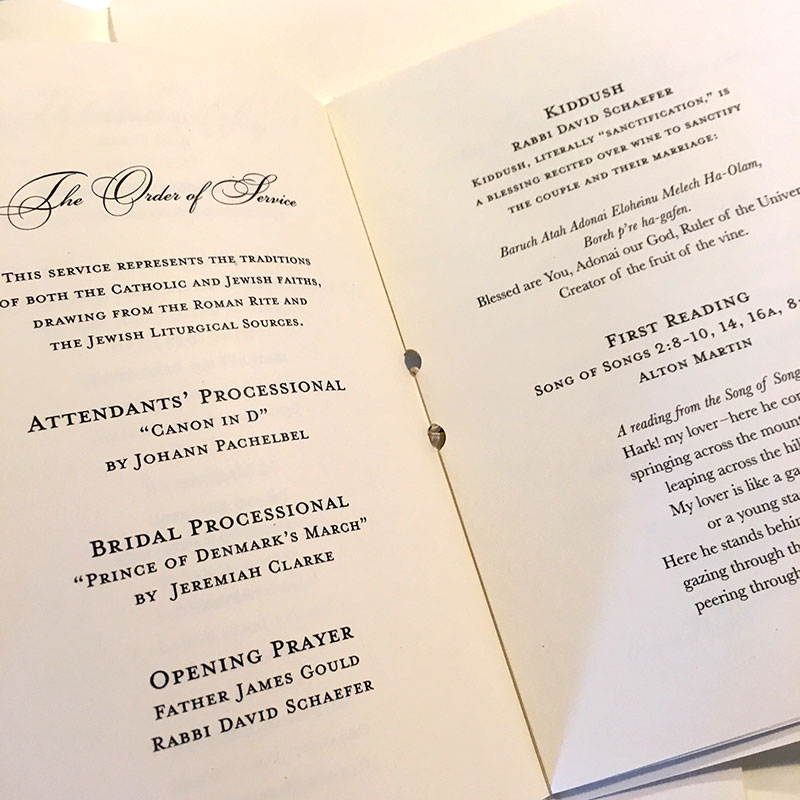 ~ WEDDING CEREMONY PROGRAM
A Dulles Designs wedding program delivers to your guests a comprehensive and elegant description of your wedding ceremony from start to finish that honors your families. It may include words of gratitude to your family and friends as well as a custom map, directions, or transportation information to your reception site.
A well produced wedding ceremony program is akin to designing a complex brochure which will appeal to all of your guests. Seasoned event professionals with extensive wedding experience are most helpful with this given today's multi-cultural couples and multi-faith weddings.
Alongside your wedding invitation, your ceremony program should be a meaningful explanation of your faith and traditions, which will become a keepsake for your family to cherish years later with children or grandchildren.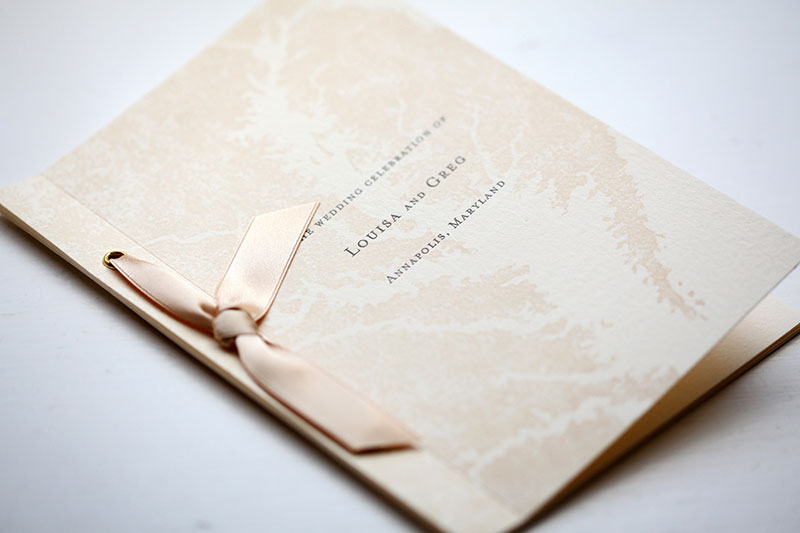 As I've witnessed many times in the past, a wedding stationery suite can become a stressful disaster if you try to go the DIY route or allow a friend or cousin with graphic design aspirations to take on their first big project, making your wedding their guinea pig. Instead trust a seasoned professional to ensure that your wedding stationery suite enriches your entire wedding planning process.
Check back next week for tips on custom "day of" wedding stationery pieces including escort cards, menus, place cards, cocktail napkins and more.
––––––––––––––––––––––––––––––––––––––––––

——————————————————————————————————–
Emilie Dulles and the entire Dulles Designs team are committed to designing and producing timeless bespoke wedding invitation suites from start to finish. Our event expertise, smooth design process, and proprietary print production result in a beautiful suite and cohesive event communications that your family, guests, and wedding planner, and you will be grateful for and love for years to come.