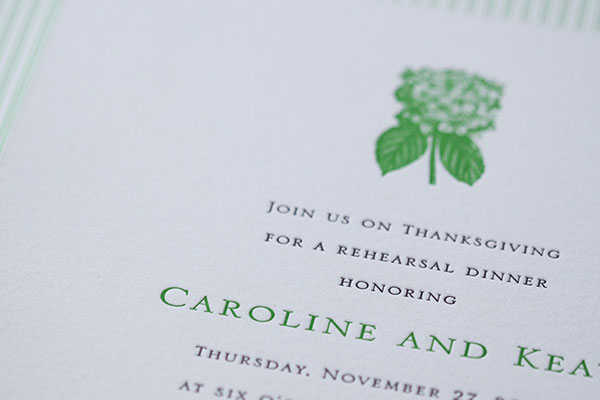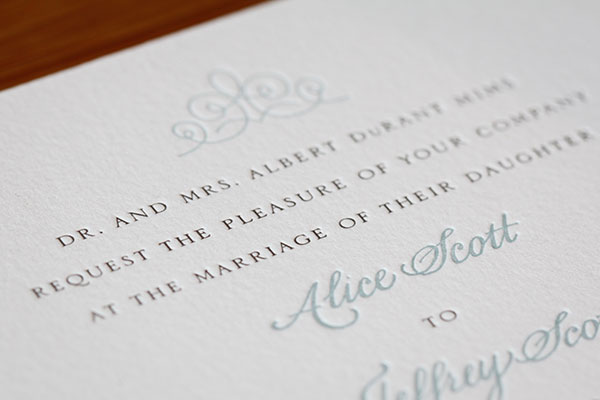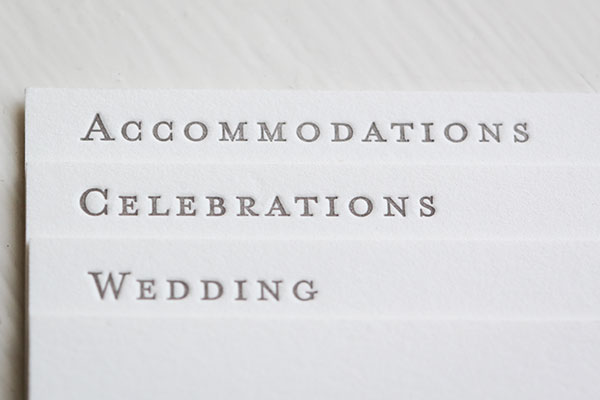 Letterpress
Letterpress is a luxurious and eco-conscious printing process.
If you drive electric, wear vintage, travel safari, and shop organic, you want to choose letterpress for your stationery and invitations.

Letterpress is a relief printing process. It involves the making of a polymer plate with your design. Your ink is applied to the plate and then pressed into a thick cotton stock, one piece of paper at a time on an old-school press, creating a visible and tactile indention.
Letterpress inks are more transparent and can vary in depth from one area of printing to another. When handled expertly, the ink color will be consistent within the same text size (a big dot may appear darker than a small letter).
The Gutenberg Bible was printed via letterpress, as are many hand-bound books and manuscripts to this day.
Dulles Designs offers the highest quality letterpress printing on environmentally conscious US-grown cotton papers for our clients who appreciate the letterpress art form.
It is easy to place a Dulles Designs order from anywhere:
Contact@DullesDesigns.com or call or text 843.513.8146
1) You email or text your artwork, photos, family crest, and wording ideas to us
2) We share a quote, Emilie emails 3-4 custom designs, we tweak as needed, then go to print
3) In 2-3-4 weeks, we FedEx your bespoke stationery order anywhere in the world
Want Emilie to email you? Simply click here